Synthetic Oil Change Over Conventional Oil?
Posted Tuesday, Jun 25, 2019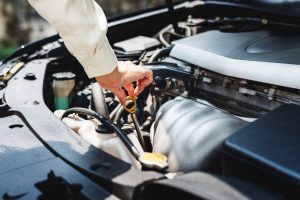 Is choosing synthetic oil change over conventional oil is a good idea? Most people do not change their motor oil until past the suggested date. Many of them cannot seem to find time to get a motor oil change. When it's finally time to change oil, many people tend to get the most inexpensive oil available at a local shop. It is time to consider a synthetic oil change over conventional oil.
Sometimes, those that are cheap can only result in expensive repairs. With synthetic, you can keep your motor's quality, which significantly helps you not to anticipate future repairs. Doing a synthetic oil change is a smart thing to do. It is the right way of assuring your engine will keep running.
Difference between Conventional Oil Change and Synthetic Oil Change
If you cannot seem to imagine why you should do a synthetic change, here is a look at the difference between conventional and synthetic motor oils. One quick way of determining when to change oil is to look at the guarantee or warranty placed on your motor. Generally, conventional engine oil requires change oil every 3,000 miles or three months approx. Some suggest's you can do an oil change every 5,000 miles.
Many motor oil companies are claiming that with this product you can do an oil change every 7,500 miles, and the most excellent synthetic oil product can last up to 12 months or up to almost 35,000 miles. Considering the said figures, one may conclude that synthetic is far better than traditional motor oil.
Some studies have even proven the cost-effectiveness of synthetic oil. Many researchers have found that synthetic motor oil does better than traditional. They have also revealed that not all companies have the same quality of synthetic products. While there are companies that stand out among the rest in terms of product quality, there are also some that have the best synthetic motor oil pledge.
Wondering what the Best Cheapest Oil Change Places Near Me?
When choosing synthetic oil, do not go for the cheapest but the best quality. Synthetic oil is best for both used cars as well as new cars. There are some synthetic oil products that you can purchase cheaper than retail, nevertheless. Do a synthetic change and learn how you can use less oil to save the environment by going green and putting less oil into waste. A synthetic oil company or dealer can even show you just how you can save money and time changing your motor oil. There are so many benefits that you can get from doing a synthetic oil change.
At this point, maybe you can now see the advantages of synthetic over the traditional motor. So, the next time you change your motor, do a synthetic change! Come to think of it; you can surely save much money with synthetic since you won't be required to do an oil change every three months. Have your oil changed only at least once a year.
Synthetic oil may be a little pricey than a traditional oil, but not all cheap products can let you save money. With a little difference in price, you can save even more since you do not have to purchase it over and over within a year.